We are living in an automatic world where everything is spontaneous and quick. Just like this, our tablets and smartphones are also automatic. Having an automatic updating option in your smartphone is a convenient way to keep your data updated but at some point, it becomes annoying. Auto update of apps in android phones is a smart way but along with that, it is not liked by many users. These updates need WIFI or Data connection which can be costly sometimes and you don't even know as it is automatic! So in that case you must handle such a situation before it ends your mobile data plan.
For someone like me, I like basic versions of apps so auto update is just not my thing! I keep using the apps as I download them from Google Play store and don't update them without any reason. I am not always connected to WIFI so I save money by not allowing apps to auto update themselves as the data connection rates are considerably higher. You can also do that by following some simple steps described here;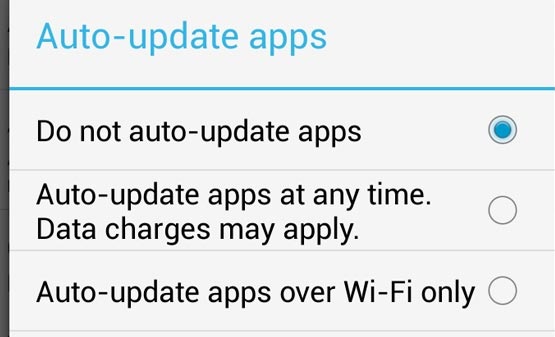 Step 1
First of all open your Google Play store on your android device or tablet. It's a new name for Android Market and works just like before. Just open your applications menu and you can easily find this option. Once you open it, go for the settings option.
Step 2
The next step is to look inside the settings panel and search for the Auto update apps title. In some devices, there are three dots in the upper corner of the on-screen keys for the settings. If you don't have that, don't worry you can still find auto update apps panel. You need to select it.
Step 3
After selecting the auto update app option, you will be shown options like;
Do not auto update apps
Auto update apps any time( data charges apply)
Auto update apps on WIFI only
These are the options which can help you select your desired settings for your android device. Just click on do not auto update apps and the auto updates will be disabled.
Tips
You can select individual apps to update automatically if you want to.
The option of using WIFI is best for updating apps for best speed and no charges.
You can change your settings any time.