PS2 games are very interesting that are generally played on Sony Play Station 2. But you can play PS2 Games on PC Windows also by using some free PS2 emulator. PCSX2 is a very popular PS2 emulator that helps to play PS2 games on windows PC. So you need to install this emulator in your PC in order to play the games.
It is a three step process if you want to play PS2 games on PC windows. These are Installation of PCSX2, configuration and finally playing the games.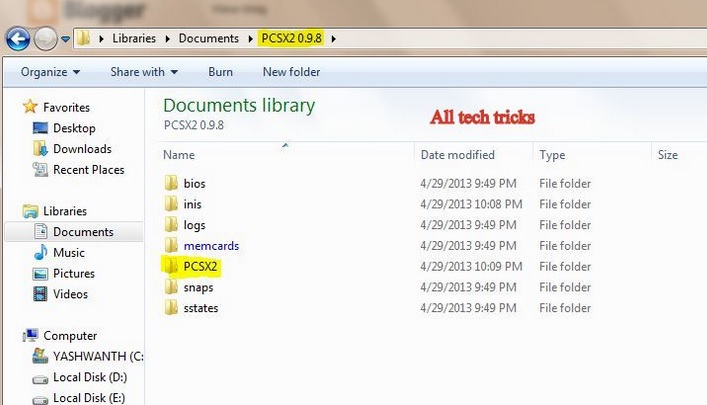 Follow the steps to install PCSX2:
Click here to download the latest version of PCSX2 emulator.
If you have Directx latest version already installed in your system then uncheck the Directx box while installing.
You will require some BIOS files that are the set of instruction for input and output for PCSX2 emulator which is built in the installer.
Do copy and paste the BIOS files from there to PCSX2 bios folder present in My Documents.
Steps to configure PCSX2 for the first time:
As you try to run the .exe file of PCSX2 application it asks for the first time configuration.
Once you click on the next button different plugins like GS, PAD, SPU2, CDVD, USB, FW, DEV9 will be reflected with the settings.
You can change the settings later also if you want.
However you can go for the plugin settings by the below procedure:
GS: if you want any Graphic Setting changes then click on any of the GSdx 5875 version and configure it.
PAD: Keyboard control is allocated by selecting the Lilypad configuration.
SPU2: Sound effects can be changed by selecting the SPU2 x R5830 and configuring it.
The other plugins is not required to configure.
Once you done with this click next to configure BIOS
Click on Refresh list and you can see the list of different BIOS version
Select on EUROPE v2.o and then finish.
Play the game:
Go to CDVD>ISO selector> Browse to locate the Game ISO
Head to System> Boot CDVD to RUN the game