KMPlayer is one of the best media players that run on windows. Most of the laptop users use KM player as VLC can spoil the speaker of Laptop. This player was introduced in 2002 by Kang Young Huee and since the inception it became very popular. This KMPlayer comes with numerous features which is the reason people are using it most. This is very rich software that supports all types of files such as avi, mpeg, mp4, agm, rmvb etc. It also has the capacity of 3D displaying.
But recently the KMPlayer users are complaining about a common problem that is sidebar ads. Whenever they are trying to open the KMPlayer to play something an advertisement is coming from its server. Users are getting very annoyed with this issue and complaining a lot. You can disable KMPlayer Sidebar with Ads in Windows 7/8/8.1 by going to the settings though it's of no use and the same problem continues. To get rid of this problem permanently you need to follow the below steps: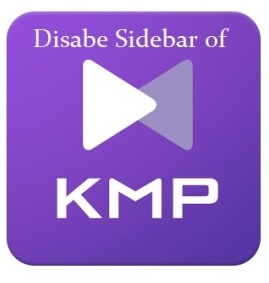 Steps to Disable KMPlayer Sidebar with Ads in Windows 7/8/8.1
First go to the control panel and find out the 'Network and Internet' option. In case you are not able to find it out then you need to change the 'view by' settings. 'View by' is presented on right top corner of Control panel with a drop down box. Change the settings to category by clicking on the drop down box. Now you will find out the options very easily.
Click on that 'Network and Internet' option.
As you click on that option a new window will be seen.
On the top of that window various option are there from where you need to click on Security tab.
Select 'Restricted sites' and then 'sites. '
Again a new tab will be opened where you need to add payer.kmpmedia.net in the restricted sites list. Now once you save and close it, the problem will be fixed permanently. This procedure stops the network connection with KM Player server.
Now restart you PC. And enjoy the KM Player with no interruption.