If you are looking for a way to download and install any android app of your choice in your system, in order to do so you just have to connect via Cloud Connect. It will help you to sync your mobile data with the Bluestacks software of your PC. It will not only save a lot of your time but save your efforts too, which you might waste on searching the right application or game.
All you need is a working internet connection with high speed. This is compatible with all versions of windows. You can avail this feature only if you have the full version of Bluestacks installed in your system.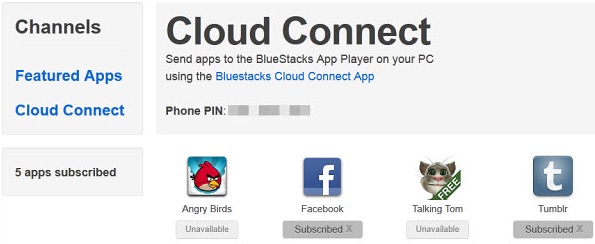 Here are few steps, following which you can easily sync your Smartphone applications to the BlueStacks software installed in your systems.
First of all open your BlueStacks software on your system.
Open the settings option of BlueStacks. You can find it in the notification bar or can search it in All Apps option.
After opening the BlueStacks Settings, look for Cloud Connect option, open it and then move forward with the instructions.
You have to provide your email id as well as your phone number to complete the registration with Bluestacks.
After completing all the procedures, you will get a pin code.
Then use your Smartphone, open play store in it and search for Bluestacks Cloud Connect.
Open it, install it and enter the provided pin code over there, which you get after creating a Bluestacks account on your PC.
Now your Smartphone is connected with your system's BlueStacks.
Open the Bluestacks Cloud connect from your Smartphone and take any app which you want to sync with your system and click on the sync button.
It will take some time as per the size of the app and afterwards, you will receive a notification saying that you have successfully synced the selected app with your system.
Now open BlueStacks on your PC and enjoy all your synced app and games.