Dropbox is indeed a very good cloud storage service which enables you to access your files from anywhere around the world.The popularity for this service can be estimated from the fact that it is one of the top most cloud storage service and its valued at $10 Billion globally. Hence using this amazing service you can share,sync and backup your important and confidential data across a wode range of devices such as your Laptop, desktop, Tablet or smartphone. Apart from all these benefits one of the major drawbacks of dropbox software for PC is the inability to access multiple accounts from the same PC. This is a common concern as you may have family members each having his/her own personal dropbox account and want to use it simultaneously say on a common home desktop computer. Hence to bring the solution to this potential or even currently existing problem we are presenting you with our "How to Access Multiple Dropbox Accounts from the Same Computer Guide".
Managing Multiple Dropbox Accounts on Same PC (Windows XP/7/8 and Vista)- Step by Step How to Guide
Cloudfuze is a highly useful software that allows you to manage multiple cloud storage accounts such as Dropbox from the same computer, laptop or PC.Follow the below mentioned steps:
First Download the Cloudfuze Software from the official developer's website.
Install the Software using the downloaded file.After that you need to register or sign up for CloudFuze services.You can register within the app.
After registering and verifying by clicking on the link send to your email, you have to click on add cloud accounts.
After that you need to choose Dropbox from the list of services that are shown.
After entering your dropbox details you need to authorize your cloudfuze account to access your dropbox files and data.
After authorization and verification through email you have to click on the Done tab that appears on the Screen.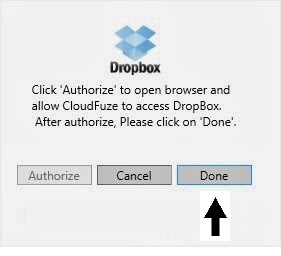 You can add as many dropbox accounts as you want using the above methods; Enjoy Multiple and Simultaneous Access of Several Dropbox Accounts on Same PC using Windows XP/Vista/7/8.