Shared photostream is an interesting feature of iPhone and iPad by which you can share the images that you have clicked in your iPhone or iPad within your friend circle or in a specific group whom you want to show the photos. You may share your images with all of your friends or with just a few people. These two processes are different.
The first process is very easy. When you click the photos in your phone an option will be noticed when you have saved the photos. The option is iCloud photo sharing and if you click the photo and add them to iCloud photo sharing then all your friends can see your photos.
The second option that allows a specific group of people to see your images using shared photo stream is little different from the iCloud photo sharing. In this case you have to first create a shared photo stream and then add photos to that album. Now add the people whom you want to show the photos to the same album. This is an easy way to share photos using shared photo stream but creating a shared photo stream is required for that.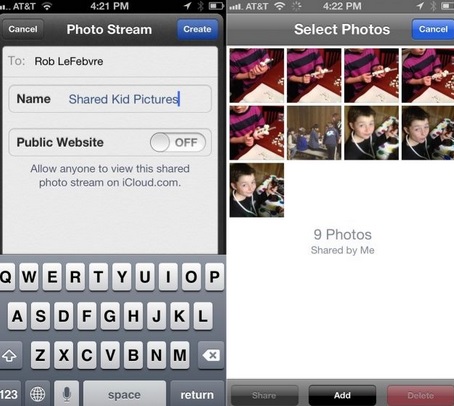 The way to share images by creating and using shared photostream
Head into settings and select iCloud
Make the iCloud photo sharing option enable.
Now open the photos app to discover a new option in the bottom which shows shared
Press on that shared iCloud
Now click on the +icon and give a name of your photo shared album
Add those contacts from your contact whom you want to include in this album and press on create. Your album is now ready.
Next add the clicked photos in that album.
Photos in that album will be shared with group and they will be able to see the photos.
This full process will hardly take any time and you can share photos with whoever you like.