If you have accidently deleted some of your important files on your android Smartphone and thinking that you are totally screwed, then here is something which you can do in order to recover them.
You can easily get your files back which have important information like, messages, contact info, audio, video, images, etc.
Here is a way of recovering the data which was accidently deleted by you or
got deleted due to some error.
Recovery Android
It is one of the best tool used to recover deleted files on your android phones. It also provides other features like rooting, backup, video conversions, etc. Follow the steps given below: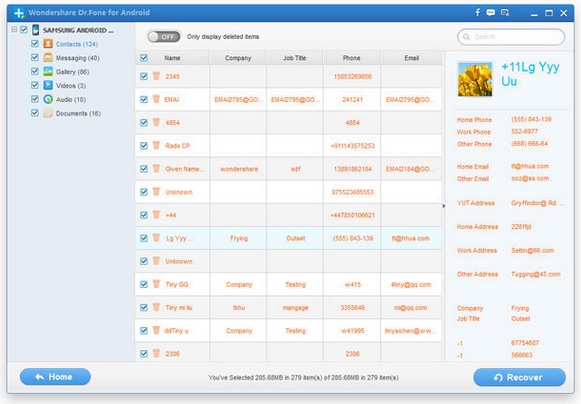 Download the tool from the internet, install it by following all the instructions, just like you install other software on your system.
Now open settings in your mobile phone and then application and development, look for USB debugging mode and activate it.
Establish a connection between your phone and system by using a USB cable.
Open the recovery software you have downloaded on your system earlier.
Now give some time to the software to recognize your device. Once it's completed, click on the green start button in order to start scanning your device. In case your phone prompts for any permission pop ups, then accept it or allow it.
Scanning of the device might take some time and also depends on the storage size of your mobile phone.
After the scanning is completed you will see several files on your screen marked with a red color, which indicates the deleted files.
Now you can select those files which you want to restore by checking the box next to it and then click on the recover button.
Recovery process might take some time as per the size of the file.
Now you can check your mobile device and will see that file is back in your phone.
Your problem is solved, and now you have all the important information back in your phone.
Similarly you can use other software like potatoshare, Yodot, Dumpster, etc for recovery purposes.