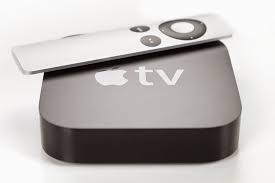 As a tool for media viewing  the Apple TV is awesome; for your pleasure you can watch movies and listen to music directly from your iPad or your smartphone.  Same thing goes with connecting to Netfix which is starting to show a lot more programs that you won't be able to find anywhere else. The game changes though when you jailbreak Apple TV becasue you can upload new applications and systems that will make the Apple TV a whole lot cooler than is already is.
There are a ton of upsides to jaibreaking your Apple TV more so than downsides. Some of the programs like Kodi (an entertainment hub) and aTV Flash (internet browser and unofficial apps enabler). For now only the Apple TV 2 can be jailbroken(sorry if you've got the Apple TV 3) with a special software and Apple TV 1 can be jailbroken with a program called Rowmote.
How to jailbreak Apple TV 2:
Apple TV 2 that runs iOS 5.3 (From June 19th, 2013) can be jailbroken with a program called Seas0nPass. Check it out at the  FireCore website. Specifically the steps on how to jailbreak your apple tv 2 are:
1. Download and unzip the program Seas0nPass from FireCore's webpage and move it to your applications folder.
2. Link your Mac onto Apple TV with a USB Micro Cable.
4. Click open the  Seas0nPass app and press the option Create IPSW.
5. CLick on the Menu tab and Play/Pause buttons on your Apple TV remote at the same time (when prompted to do so).
6. Press Done after the Seas0nPass program finishes jailbreaking Apple TV.
7. Take out the USB cable, and link the Apple TV with a TV set with an HDMI cable plus power plug; turn it on.
When Apple TV turn on you should notice FireCore's logo. Presto! Your Apple TV has successfuly uploaded the jailbroken software. You can now work with and install special apps plus services. Check out FireCores website on how to optimize your now jailbroken Apple TV.
For more apple new/tutorials click here.