Android is the most useful operating system that was developed by Google and now it is everywhere. Since the entry of android in the market people have been so addicted to it that most of the people are using a phone that runs on android. The reason is it comes with several advantages. This is an open source operating system which has the advantage of customization, provides countless applications, very fast and this provides the best platform to play games. Most of the smart phones and tablet use android operating system. But nothing can be perfect and comes with some faults. And Android also is not an exception to that.
Google Play 481 Error is one of the problems of Android that sometimes occur while downloading any application from Google Play store. This 481 error is the problem of SD card. It might happen due to the corrupted SD card or may be an issue related to storage. But this problem can be easily fixed by changing the settings and following some steps. Find out how to fix or resolve Google Play 481 Error on Android here.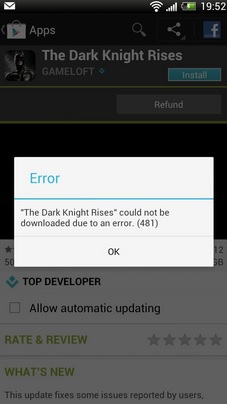 Steps to be followed to fix the error while downloading apps
First of all, go to settings.
Select apps to see all the applications that are present in your phone.
You will find out Google Play store app or android market from the list.
Select that app.
Now press on clear cache or clear data in the same order how it is mentioned on your phone.
The process is completed.
Now you will be able to download the app without any interruption. Try and download the app by going to Google Play store.
But if you are still facing the same problem then you need to reset your Gmail account by deleting it. First delete the account and then re-enter the log in details to log in again.
This is the process that will help you to fix Google Play 481 Error on Android. This process is quite easy and will definitely solve the issue.