Android is a great operating system that most of the people prefer in these days. It is becoming popular in the entire world. Android comes with many more features and provides flexibility. This is a user friendly operating system that is widely used in business purposes, for playing games and for many other work to get done. Google Play store is one of the android apps which are loaded with tons of free apps that you can download if needed. The Google play store 911 Error occurs during downloading or updating the apps in Google Play store. This problem can be easily fixed by following some methods. The methods are discussed here.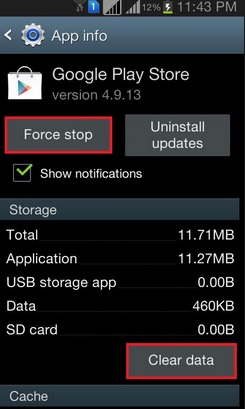 Methods to fix Google Play store 911 Error:
Method 1:
Some data should be removed from the Google play store to fix this issue. In order to do this,
Head to Settings
Select Manage application
Now press all and you will be getting the list of all the applications that you are using in your smartphone.
Select the Play store among them
Then click on force stop and then clear cache, and then clear data.
The problem will be fixed.
Method 2:          
This is a helpful method to fix Google Play Store 911 error. This method requires disconnecting wi-fi and switching to data connection. Turn on your data pack and try to download or update any apps by going to Google play store. This will not give any error and apps will be downloaded easily. Mostly 3G data connection is preferred to do this update and download. But only the small size apps can be downloaded. Wi-fi is required for large apps.
Method 3:
If you have Wi-fi connection then it may happen due to expiration of authentication. Open the Wi-fi and if you are asked to login in the webpage then log in into APN through any android browser. Now try to update the apps in Google play store. The problem will be gone. But if you still face the error that means it is a Wi-fi related problem.
Method 4:
Using of some other networks instead of Wi-fi can fix Google play store 911 error.
Any of these above methods will definitely fix the issue.