This retrieving information is a very usual error that most of the android Smartphone users are facing. It takes place when you try to download or update anything from the Google Play store. This error retrieving information from server rpc s-5 aec-0 in android can be fixed in various ways. All the possible methods are discussed below and you can pick any one from that to get rid of this error.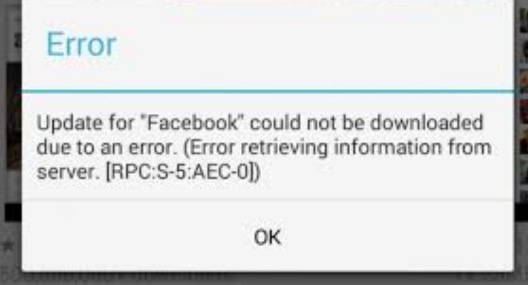 Method 1:
Google Play store has some cache files and these files may be the reason of this error retrieving information from server rpc s-5 aec-0 in android. So cache files should be removed in order to fix this issue. Follow the below steps to remove cache files from Google Play store.
Go to 'settings' and tap 'More'.
Press 'Application Manager' to see all the apps of your phone.
Head into Google play store.
Tap on the 'Clear cache' button at the bottom.
The cache has been cleared from Google Play Store which will fix this error.
Method 2:
This problem may occur due to the carrier server. In that case changing the carrier server can solve this issue. So it is suggested to connect through Wi-Fi rather than using 2G or 3G connection. You can try this method if the first method does not work out for you.
Method 3:
This method needs to delete the Google account and sign in again. You have to follow the below steps to do this.
Head into Settings.
Tap accounts and then go to Google to find out your Gmail account.
Click on Remove and your account will be deleted.
Now go to Settings again to clear the Google Play store cache and data. Follow the steps:
Settings> Apps> All and then force stop all the apps to clear the cache data from Google Play Store.
Again go back to Settings, press accounts and then Google to add your Gmail account.
Now restart your phone and then try to download or update apps from Google Play Store.
The problem will be definitely fixed by any of the above methods.