Scribd is the collection of all types of files and ebook that is very important to us. If you want to download any important pdf or doc files then registration is required first and then you can go for the downloading. But most of the time it has been observed that you are asked to pay an amount as you click on to download the files that you want. But I can provide you with a method that will definitely help you to download Files from Scribd without paying a single penny.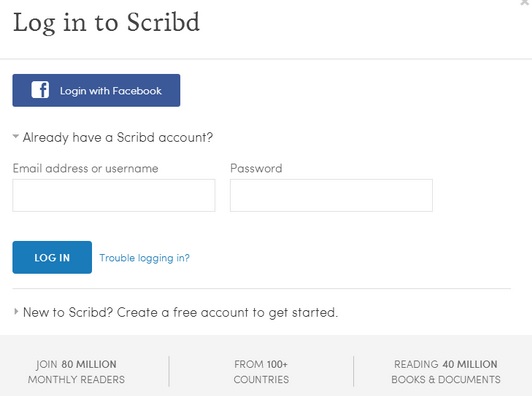 Follow this step by step process to download files from scribd without paying:
First of all go to com.
Now search for the file that you want to download from scribd.com and select the file for free downloading.
Copy the URL of the page to view it or download from Scribd.com.
Log in using your log in details or if you are visiting it for the first time then register over there. You can sign in with Facebook also.
Immediately after log in you will be taking to the subscription page. Ignore that and come back to your account.
Now upload any document in the particular field. You can upload any text document but that should be valid.
Then you will be asked to fill the title and description of that file. Put a title and give description of the file.
As you click on the Save and continue button to save it, a message box will be coming saying congratulation and your upload has been accepted.
Now click on the 'return to download 'link and paste that URL of your file that was copied.
Finally click on the Download button to download files from Scribd without paying.
Follow the same process each time you want to download any free files from Scribd.com, because as you upload a file in Scribd you will be offered a free download. So upload a file and enjoy free downloading of your needy document from there.