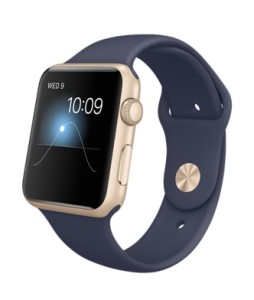 The Apple Watch: Such a complex design in a sleek and minimalistic form.  For most of uas it will require a bit of time to become familiar with this innovative piece of tech. In order to help us all oput with this facy new gadget brought to you from the makers of the iPhone, here's a list of 7 great tips and tricks in order to streamline efficiency while using the Apple Watch.
Fix Time So You Can Be On Time
Since most of us are pretty phone dependent in order to check the time, it's probably been a while since we've had to adjust a clock by hand. For those of us who are consitently tardy and wind a clock a few minutes fast rejoice. How to speed up the Apple Watch by a few minutes, open Settings, choose Time, and rotate the Digital Crown to move forward up to 59 minutes.
Final Note: Adj. time here will only affects the watchface, it will not affect your alarms or notifications.
Find Your Lost iPhone
Just quickly swipe up to bring up your Glances (It's a bunch of quick snapshots that will give you useful info). One Glance is the Settings option. Just tap "Ping iPhone"; Your iphone will buzz wherever you left it.
Kill Ongoing Navigation
You could of changed your mind, stop and got gas, or decided to change routes. With this in mind, it is super helpful that Apple made a Map Navigation kill switch. It allow watch users to end ongoing navigation without reaching for their phone. Use the Force Touch gesture (just tap the screen, and then apply a bit more pressure) at any point in Maps.
Call Upon Siri
One weakness of smartwatches: They're not the best when wanting to tap out long messages. In order to fix this shortcoming, Apple Watch allows users to easy summon Siri to transcribe your texts or emails. Just tap and hold the Apple Watch digital crown—that can be seen as the Apple Watch equivalent of the "may I help you?" riff.
Fix Camera View
Apple Watch users may have noticed that its screenface can be used as a real time viewfinder linked to your iPhone's camera. Something you might have missed: Tapping the Watch face allows you to alter the focus and exposure, same as when you tap the iPhone's main screen when taking a picture.
Silence and Mute Notifications
Whether you are in a movie theater or business, it's commen for people to forget to quiet devices. The Apple Watch allows a quick shortcut to help you mute notifications on the sly; No more shuffling through options or setting (attracting onlookers' to the bright screen). Quickly hold your palm above the watchface for a few seconds, you will notice a slight gentle haptic tap that confirms everything is on mute.
Scan Email Quickly
Apple Watch operates well for sneaking a peak at emails coming in, but when it comes down to actually readding and addressing them, you will most likely go onto your phone or computer becasue it is much easier. In order to flag an email to not forget about it, just Force Touch the open message. In order to delete one, simply swipe left.